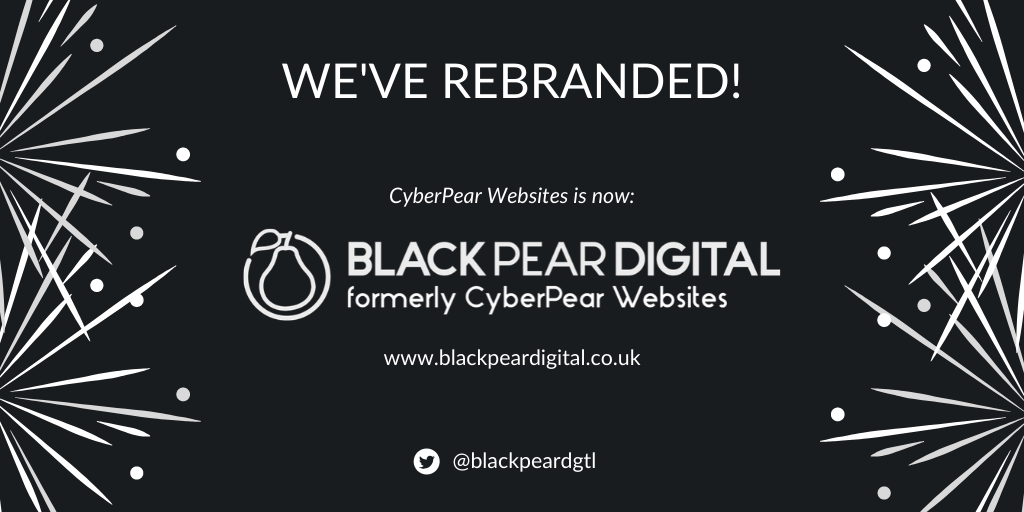 Over the last few months you will have noticed some changes to my business.
I've been gradually moving everything to a new business name, going from "CyberPear Websites" to "Black Pear Digital".
Why rename?
On the path of discovery that is a first year of business, I realised that most customers want a more all inclusive solution. In response to this I now offer hosting and domain name management. In the long term I also want to extend these services.
Unfortunately "CyberPear Websites" didn't reflect this range of services, so I decided to adopt a new trading name "Black Pear Digital".
Why "Black Pear Digital"?
This new name retains the reference to the local Worcester "black pear" but now uses "digital" to represent the range of digital services that I now offer.
New Logo?
I'm quite fond of my "pear" logo, so I decided to keep it in the new logo. For the time being, to help avoid confusion there's reference to my old trading name (I'll remove it later on in the year).

What's updated?
My website has now been moved over from www.cyberpear.co.uk to www.blackpeardigital.co.uk.
My main email address is also moving over, but you'll still be able to reach my on my old email addresses.
Social media pages have also been moved, with a new twitter handle @blackpeardgtl and Facebook handle "blackpeardigitaluk". I also now have a new presence on LinkedIn.
Any follows, likes or connects would be appreciated!